Chicken Tinolang with Malunggay (Moringa)
Serves about 5 people

Recipe by Collective Member: Sherwin Cacayuran

Ingredients:
2 lb. of Chicken (cut into serving pieces)
4 - 5 cloves Garlic (crushed and chopped)
1 pc Onion (sliced)
2 pcs. Tomatoes (sliced )
3 thumb size Ginger (julienne slice)
1 - 2 Lemongrass stalk (crushed and cut into 2 inches length)
2 - 3 pcs Chayote or 1 green unripe papaya, cut into cubes
1 cup Moringa leaves (more if preferred)
3 green or red chili peppers
Chicken Stock or Chicken Broth cubes / powder
4 cups water or more
Salt or fish sauce and black pepper to taste
Cooking oil
 
Instructions:
Heat oil in a pot.
Sauté garlic, onion, ginger, tomato and lemongrass. Add the ground black pepper.
When the onion starts to get soft, add the chicken and mix well. Cook for 5 minutes or until it turns light brown.
Pour the water. Let it boil. Cover and then set the heat to low. Boil for 30 - 40 minutes.
Scoop and discard the scums and oil on the soup.
Add the chicken stock or chicken broth cube / powder and also the chayote or papaya. Stir. Cover and cook for 5 minutes or when the chayote or papaya has softened a little.(Papaya will be cooked longer because it's harder)
Put the malunggay leaves and chili peppers in the pot and put salt / fish sauce to your preferred taste. Continue to cook for 2 minutes.
Youtube link for guide:



Share and enjoy!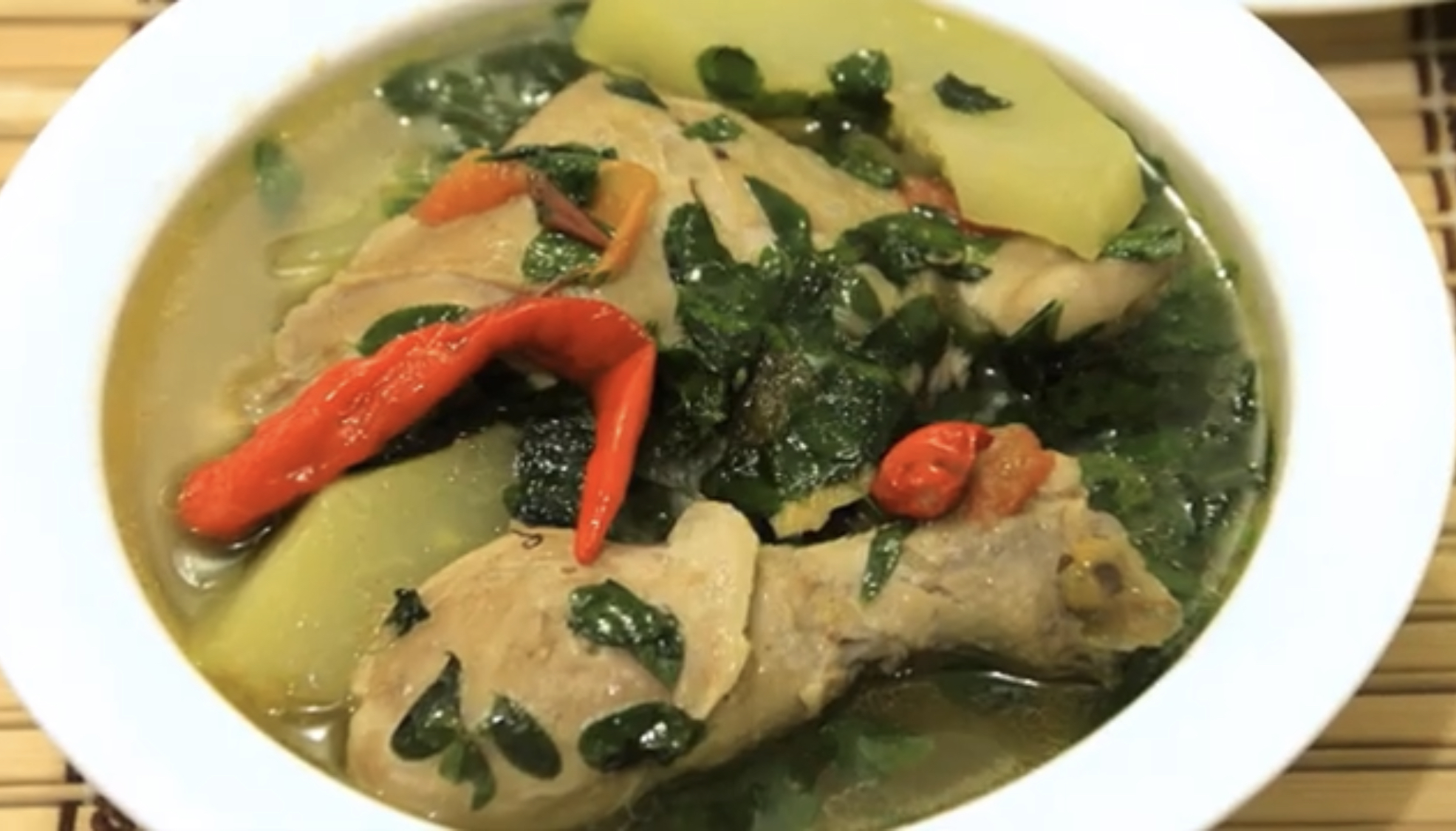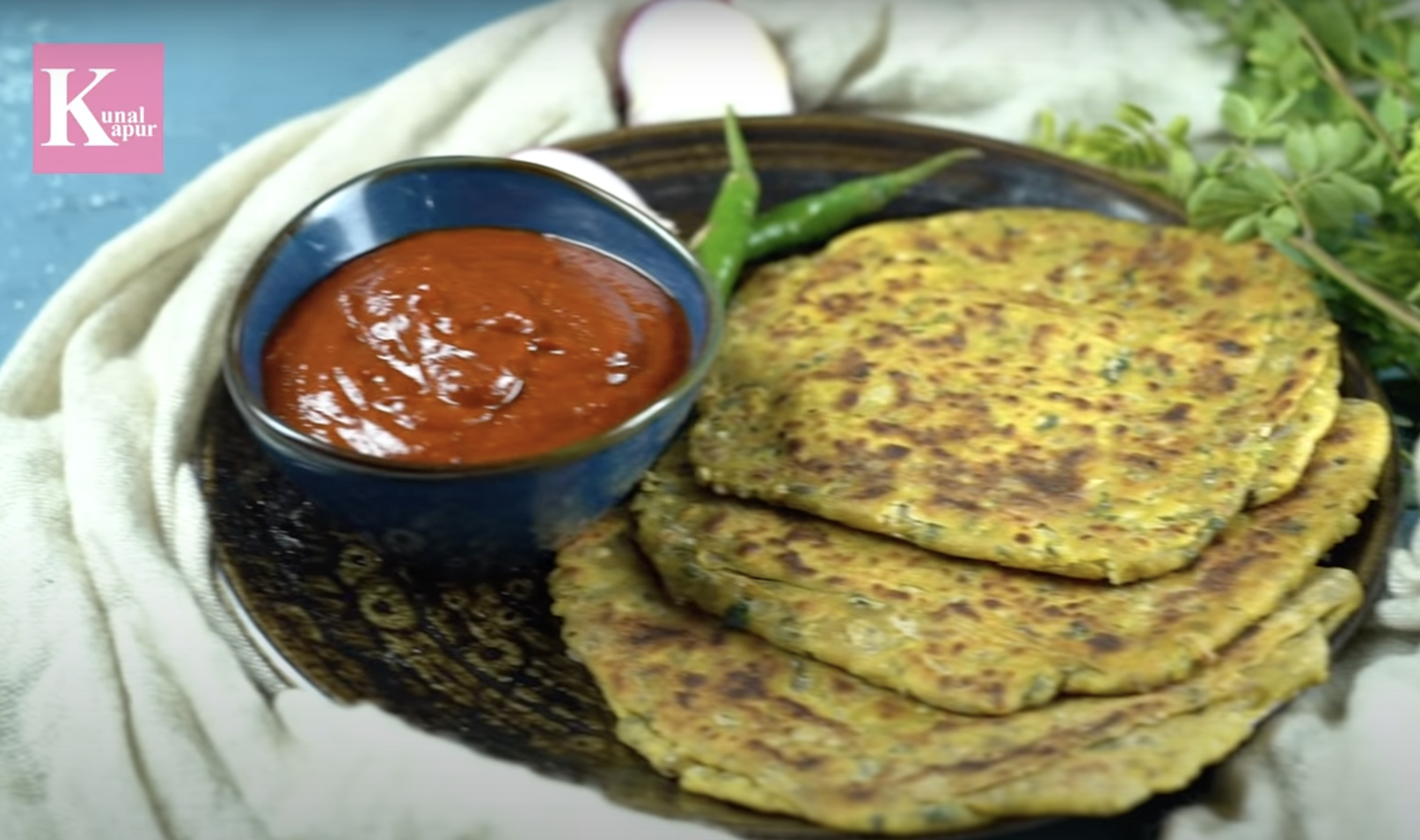 Moringa Paratha by Kunal Kapur
Ingredients 
Dried Moringa Leaves (chopped) – 1cup
Whole wheat flour – 2cups
Gram Flour – ¼ cup
Green chilli chopped – 1tsp
Onion chopped – 3tbsp
Ginger chopped – 1tsp
Coriander seeds (pounded) – 2tbsp
Cumin seeds – 2tsp
Salt – to taste
Turmeric – ½ tsp
Water – as required
Oil – a dash
Ghee – as required
For Garlic Chutney 
Oil – 4tbsp
Heeng – ½ tsp
Cumin – 2tsp
Curry leaves – a sprig
Garlic cloves – 15nos
Kashmiri Dry Red Chilli (soaked) – 12nos
Water – ¾ cup
Jaggery (Gur, small chunks) – ¼ cup
Lemon – 1no
Salt – to taste

Directions
FOR THE PARANTHA
Take a large bowl with your flour, add roughly chopped moringa leaves, besan, finely chopped green chilli, onion, ginger, pounded coriander seeds, cumin, turmeric and salt to taste, and mix thoroughly. Add water as required and knead it into a stiff dough and cover it with some oil - set aside to rest Divide the ball of dough into smaller portions to be rolled out and rest. Generously flour your work surface, and press the ball of dough to be slightly flatter. Roll out the paratha with a rolling pin lightly keeping in mind to not puncture it and brush it with ghee. Fold it into a 3-fold rectangle, apply ghee, and then into a square and roll it out again into a square. Dust off the excess atta and plop onto the pan. Flip it twice to make sure it's cooking on both sides and drizzle some ghee/oil on top. Once it's perfectly cooked, take it off the heat and serve hot!
FOR THE LAHSUN CHUTNEY 
Heat some oil in a pan and add hing, cumin seeds and mustard leaves to it with garlic. Once toasted, add some soaked kashmiri red chillies to the pan along with some water, jaggery and lemon - salt to taste. Reduce the water and allow it to cool before blending
TIPS AND TRICKS WHILE MAKING PARATHA
The dough for paranthas are supposed to feel tight. It's also extremely essential to rest after kneading and after dividing it into smaller balls. You can also dry and use the moringa leaves as a powder. The dried moringa leaves can also make teas. Moringa also has a host of health benefits and can be added as a supplement to all kinds of dishes like dal, sabzi, pulao, and the likes.

Moringa and Mint Chocolate Squares by Coconut and Berries
Ingredients:
Base:
1 cup almonds
2 tbsp cacao powder
1 cup Medjool dates
pinch of salt
Mint filling:
2 tsp Moringa Powder
1 1/2 cups cashews (soaked if your blender is not high-powered)
1/4 cup (lightly packed) fresh mint leaves 
1/4 cup maple syrup/rice syrup/raw honey
1/2-3/4 cup non-dairy milk
1/4 cup melted coconut oil
peppermint extract, to taste (add just a couple of drops at a time)
Raw chocolate topping:
60g cacao butter (It's easier to measure by weight), melted OR scant 1/3 cup melted coconut oil
1/4 cup cacao powder
2 tbsp maple syrup/raw honey
pinch of salt
cacao nibs to garnish
Directions:
For the base, blend the almonds in a food processor until you have a coarse flour. Add the salt, cacao powder and dates and blend again until your mixture sticks together easily with finger and thumb.

Press evenly into an 8x8" baking tin, lined with parchment paper and place the tin in the freezer while you prepare the filling. 

In a high powered blender or food processor, blend the cashews, mint leaves, liquid sweetener, moringa and non-dairy milk until very smooth. Add the melted coconut oil and blend again. Finally, add the mint extract, blend again and taste. Add a little more if needed. 

Pour the mint filling over the prepared base and smooth out with a spatula. Return the tin to the freezer. Whisk together the chocolate ingredients in a medium-sized bowl. Leave for a minute to cool slightly. 

Pour over mint filling, spreading evenly (move quickly as it sets fast!). Sprinkle with cacao nibs and return to the freezer to fully set. Slice into squares and serve immediately or from the fridge for a softer texture. 

Enjoy!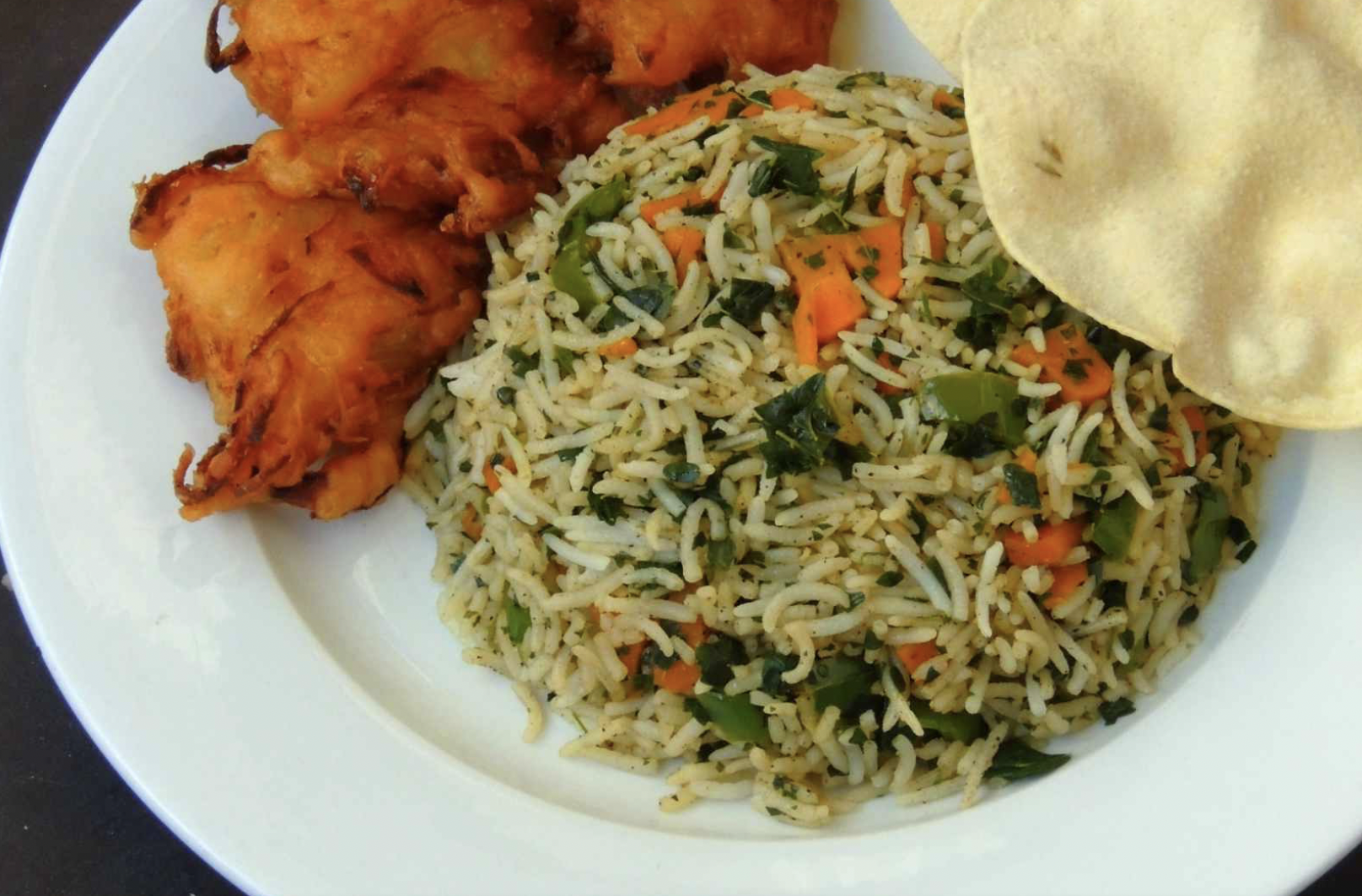 Moringa Fried Rice by Priya Suresh

Ingredients
2 cups Rice , cooked
1/4 cup Carrots (Gajjar) , chopped
1/2 cup Green Bell Pepper (Capsicum) , chopped
1 cup Drumstick Leaves (Moringa/Murungai Keerai)
2 tablespoons

 Green Chilli Sauce

2 tablespoons 

Soy sauce

1 tablespoon Tomato Ketchup
Salt , as required
2 tablespoons Oil
Directions
To begin making the Drumstick Leaves Fried Rice, firstly heat enough oil in a 

wok

, add the chopped carrots,and sprinkle some salt and saute till they turn soft. 
Add in drumstick leaves and cook for few minutes. Add the chopped capsicum, soya sauce, ketchup, green chilly sauce till the veggies are cooked. 
Immediately add in the cooked rice, salt and toss everything gently. Until everything comes together. 
Serve Drumstick Leaves Fried Rice.
Moringa Leaves Stir-Fry
by Arun Velekkat the Take it Easy Chef
Ingredients
250 grams moringa (drumstick) leaves
1/4 teaspoon turmeric powder optional
1/4 cup grated coconut
to taste salt
1 tablespoon oil
1/2 teaspoon mustard seeds
1/4 cup shallots
1 tablespoon crushed dry chillies
1 sprig curry leaves optional
Instructions
Wash and drain the moringa leaves. Get rid of all the thick sprigs. Finely chop the shallots.
Crush the shallots with the flat surface of your knife. Chop them.
Take the moringa leaves, grated coconut, turmeric powder, and salt in a mixing bowl. 
Combine well.
Heat the oil in a pan, splutter mustard seeds followed by the chopped shallots. 
After the shallots are cooked to tender, add crushed chillies and curry leaves (optional, I didn't use them). 
Saute for a couple of minutes on a medium flame.
Now add the mixed moringa leaves and combine well. 
Cook with the lid closed for 10 minutes. Add salt if required. Stir occasionally.
Open the lid, stir well, and cook for 2 minutes.
Switch off.
Serve hot with some rice and curry.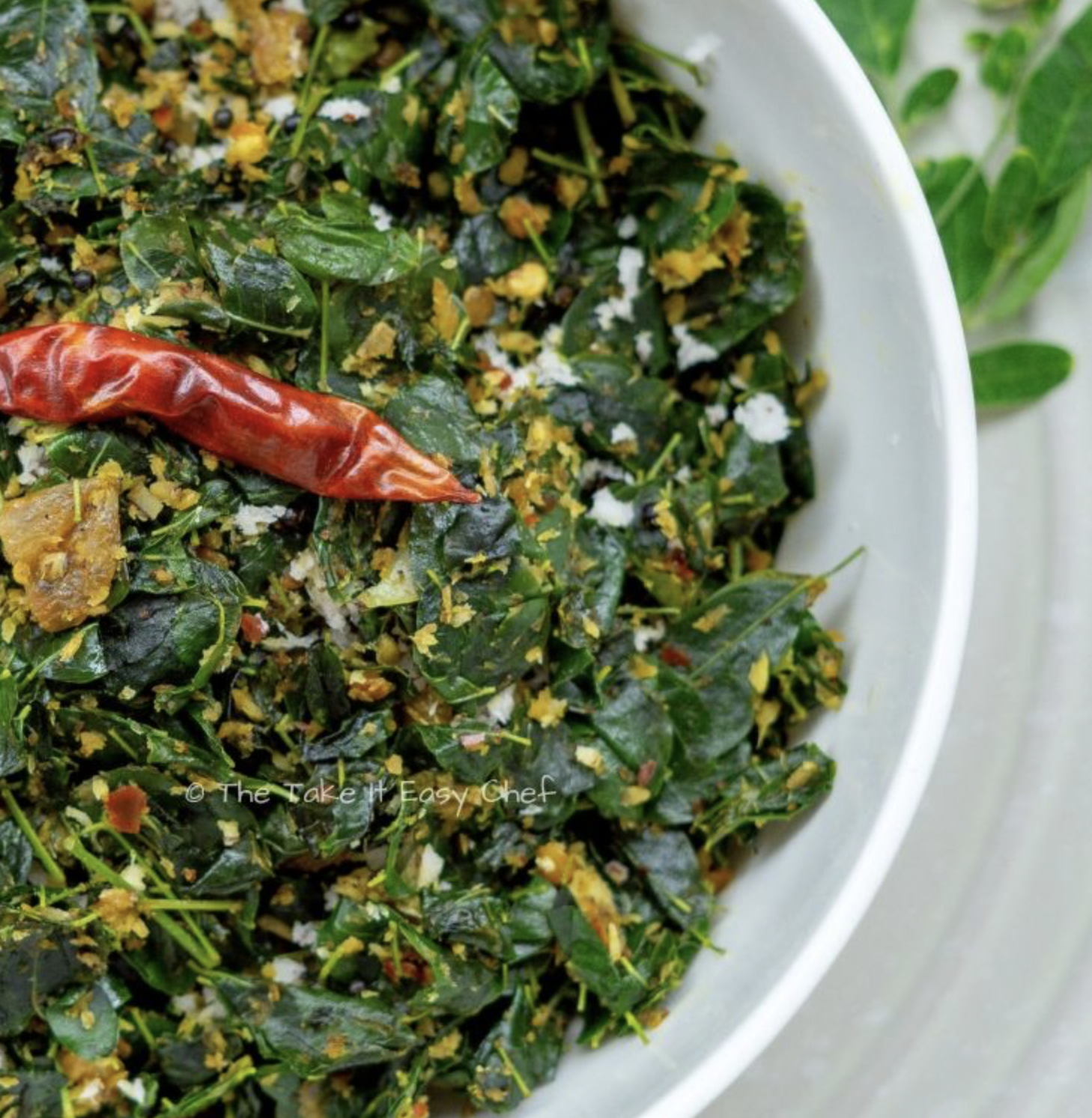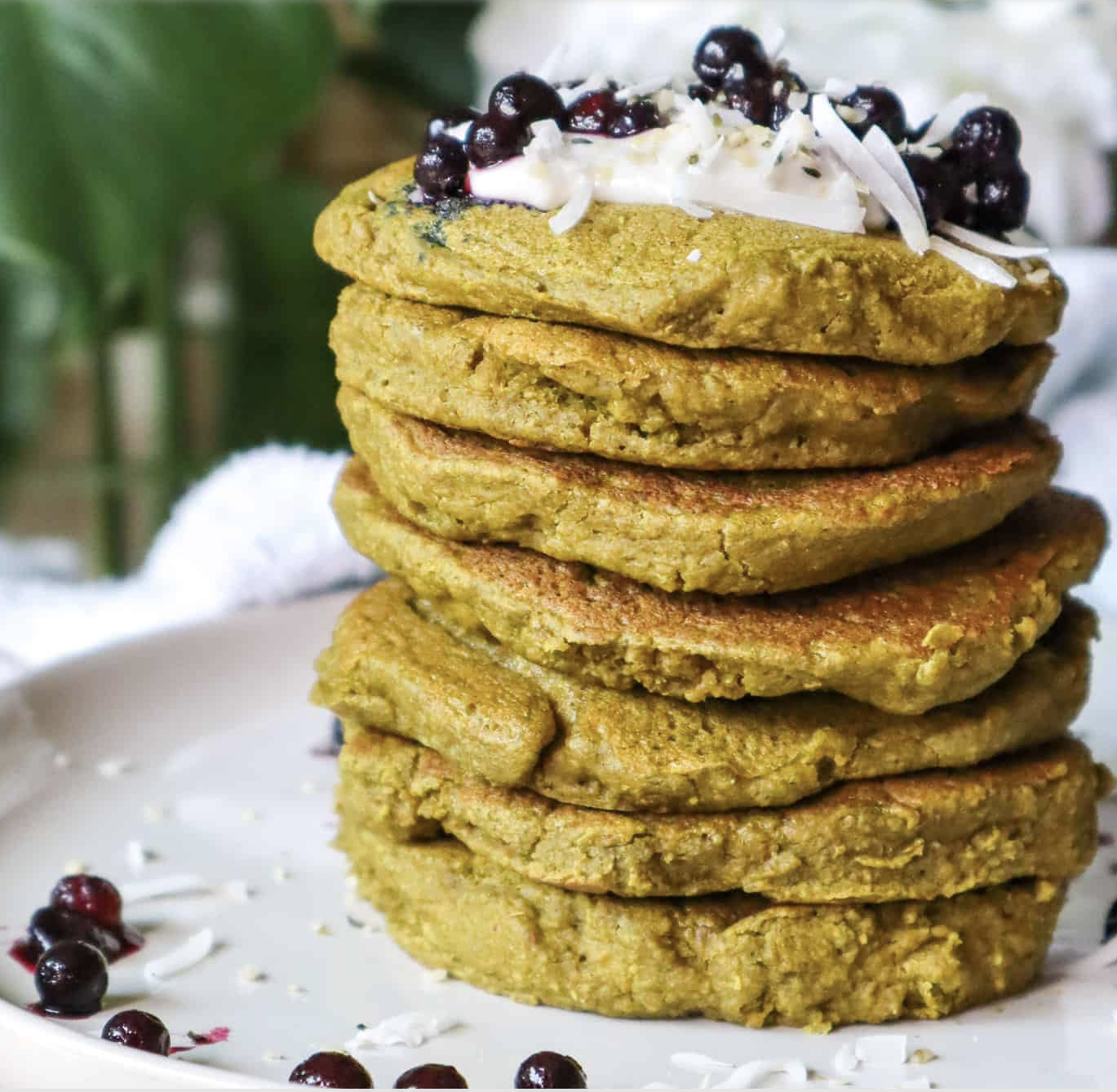 Moringa Pancakes by Capri Lilly
Ingredients
1 1/2 cup Old Fashioned Oats/Rolled Oats (ensure gluten-free, if necessary)
2 tbsp Grow Moringa Powder
1 cup Non-dairy Milk
1/2 cup Applesauce
2 tsp Pure Vanilla Extract
2 tbsp Coconut Oil, melted
1 tsp Baking Soda
2 tsp Baking Powder
3 tbsp Maple Syrup
1/4 tsp Sea Salt
Pancake Toppings: Maple Syrup, fruit, dairy-free yogurt, hemp seeds, coconut shavings, coconut whipped cream
Instructions


In a high-speed blender, grind the oats into a flour-like consistency, making oat flour.
Add in the remainder of ingredients and blend until well combined, about 1-2 minutes, stopping to scrape down sides as needed. Do not over-blend. (You can also transfer the oat flour and remaining ingredients into a large bowl and mix with a spatula.)
Let the batter rest for about 5 minutes to thicken. You want it to be pretty thick.
On the first batch of pancakes, lightly oil/butter the pan. Using a 1/3 measuring cup and spatula, pour the batter onto a non-stick skillet over medium-low heat. 
Cook the pancakes for 1-2 minutes on each side, flipping over when the bottom side of the pancake turns golden brown.
Repeat until all the pancakes are made. Serve with maple syrup, fresh fruit, and your favorite toppings!
Iced Vanilla Mint Moringa Latte by Elaine Gordon
Ingredients:
1 teaspoon Moringa Powder
1 cup unsweetened, plain milk of your choice
1 teaspoon pure vanilla extract
15 large fresh mint leaves (large stems removed)
2 large soft Medjool dates, pitted
½ cup crushed ice
Instructions:
Add all ingredients to a High Speed Blender. Blend on highest speed for 30-60 seconds until completely smooth.  
Pour into two glasses filled with ice cubes. Enjoy immediately.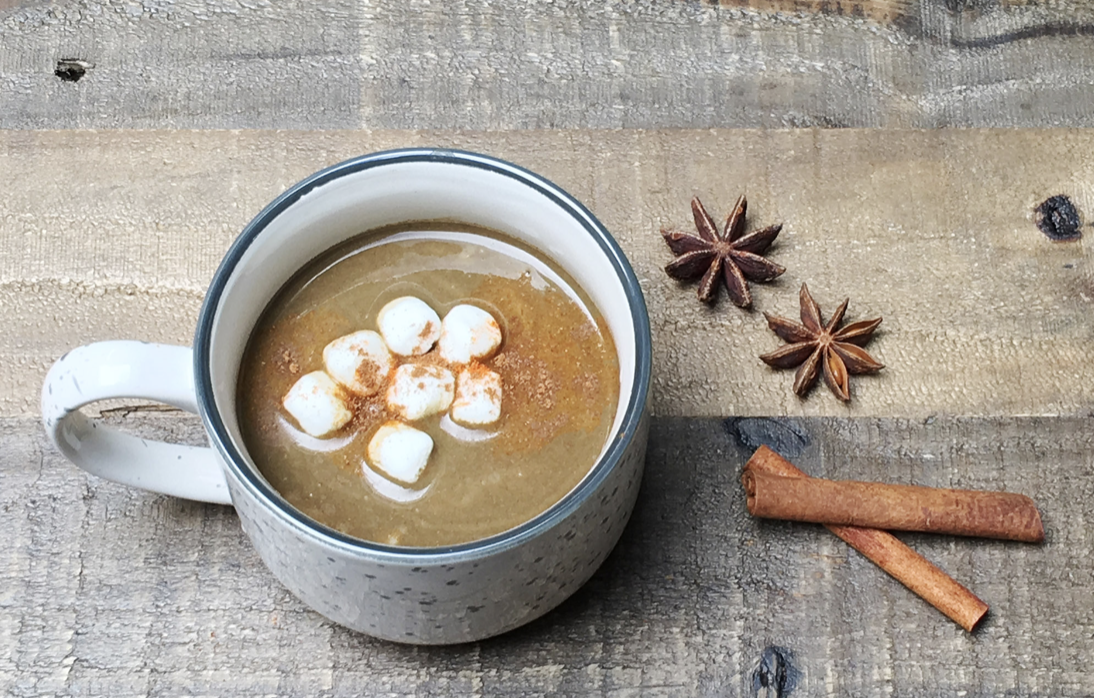 Hot Chocolate is a staple of winter. This is also a great way to get more moringa in your or your kids diet in a fun way.
Ingredients:
1 tsp Moringa
1 cup milk (Whichever type you use) 
3 ounces sweetened dark chocolate
1/4 tsp vanilla extract
1/8 tsp cinnamon powder 
Marshmallows (optional) 
Directions:
In a saucepan, heat the chocolate and around a quarter of the milk. Wait for the chocolate to melt completely. Alternatively you can also melt the chocolate in a microwave heating it in 20 second intervals as not to burn the chocolate.
Add the moringa powder to the melted chocolate and mix well. 
Pour milk, and stir until it blends. Add cinnamon powder and vanilla extract. 
Top the hot chocolate with some marshmallows and enjoy!
Quick Version:
If you don't feel like making hot chocolate from scratch that's okay too. Just add a teaspoon of moringa powder into a hot chocolate packet and mix well before adding to the milk/water. 
2 cups of Moringa Powder
1 1/2 cups frozen fruit of your choice
1 tablespoon flaxseed
½ of a banana
1 tablespoon of hemp seeds
Instructions: Blend all the ingredients to a pulp. Spoon the mix in popsicle molds and freeze them for about 3-5 hours. It's helpful to let the popsicles defrost for a few minutes before eating.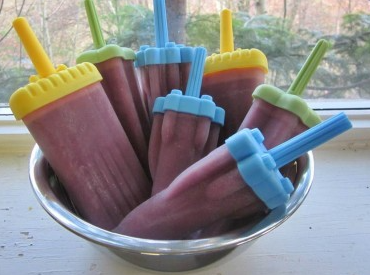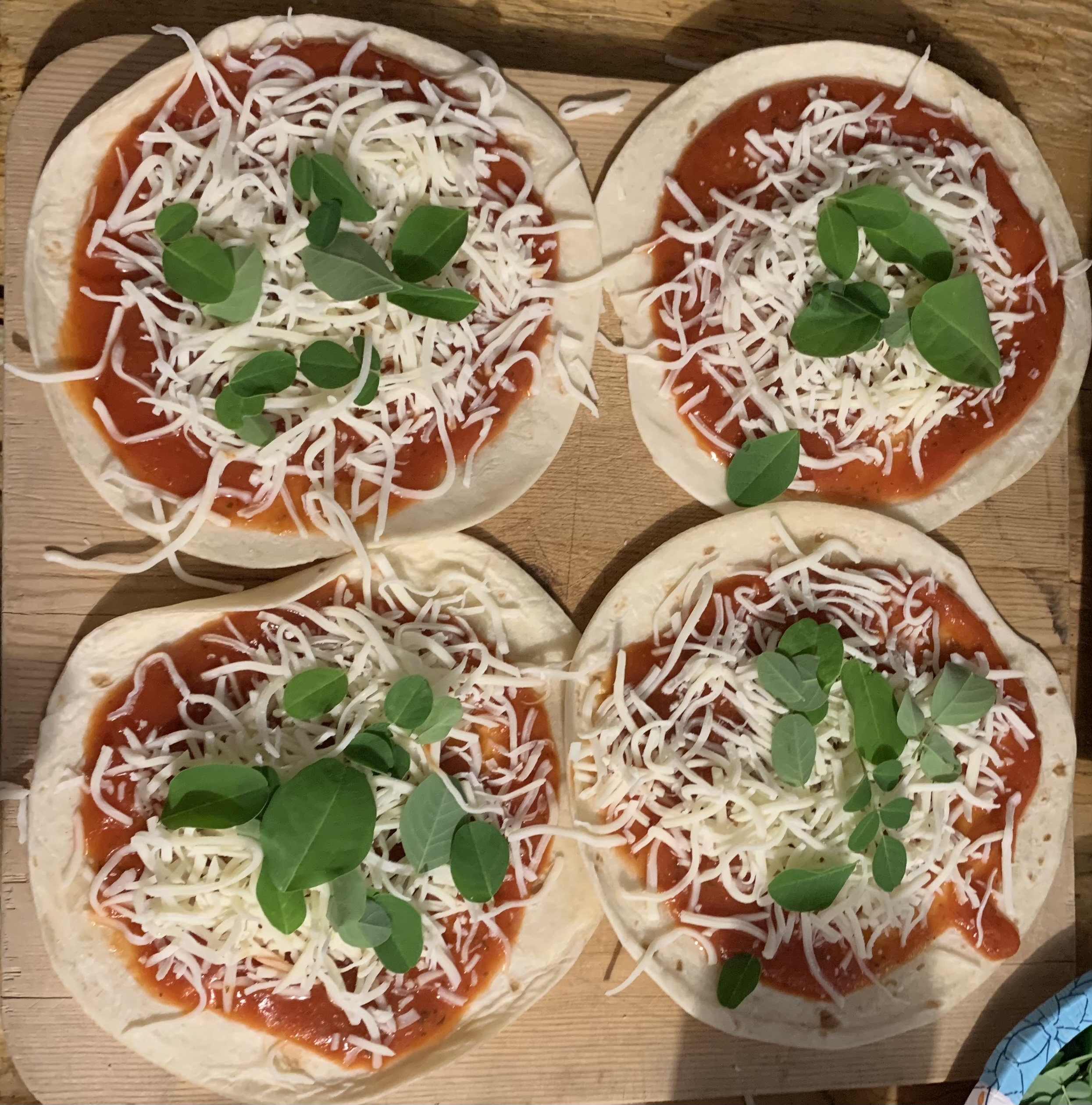 Moringa Pizza Quesadillas
*Amounts are whatever you want*
Tortillas
Pizza sauce
Mozzarella cheese
Fresh moringa leaves
Spread pizza sauce on tortilla, then add mozzarella cheese and moringa leaves on top. Fold in half. Cook in oven at 350 degrees for 10 minutes.
This is a great meatless meal for lunches. Children approved!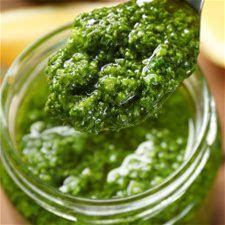 *Approximate measurements*
1 Tbsp Moringa Powder or 1 cup Fresh Moringa Leaves
1 cup Fresh Basil Leaves
½ cup Fresh Parsley Leaves 
1 Large Garlic Clove
3 ½ Tbsp Almond (or pine nuts, slivers)
½ cup Vegan Parmesan Cheese (finely grated)
1 Lime (zest of)
1 ¼ cups Extra Virgin Olive Oil (optional: 1 tbsp Moringa Seed Oil)
add pepper, salt and seasonings of your choice

*Approximate measurements*
2 cups Dry Chickpeas (soaked for 12 hours, strain and rinse, bring pot of water to boil, then simmer for 90 minutes)
1 cup Grapeseed Oil (or oil of your choosing)
1/2 cup Water
Large handful Fresh Moringa Greens
1 Tbsp Pink Salt
5 Tbsp Sprouts brand All Purpose Herb Seasoning (or use any herbs/seasonings you like)
Blend in food processor and add oil or water until you reach desired consistency. Enjoy!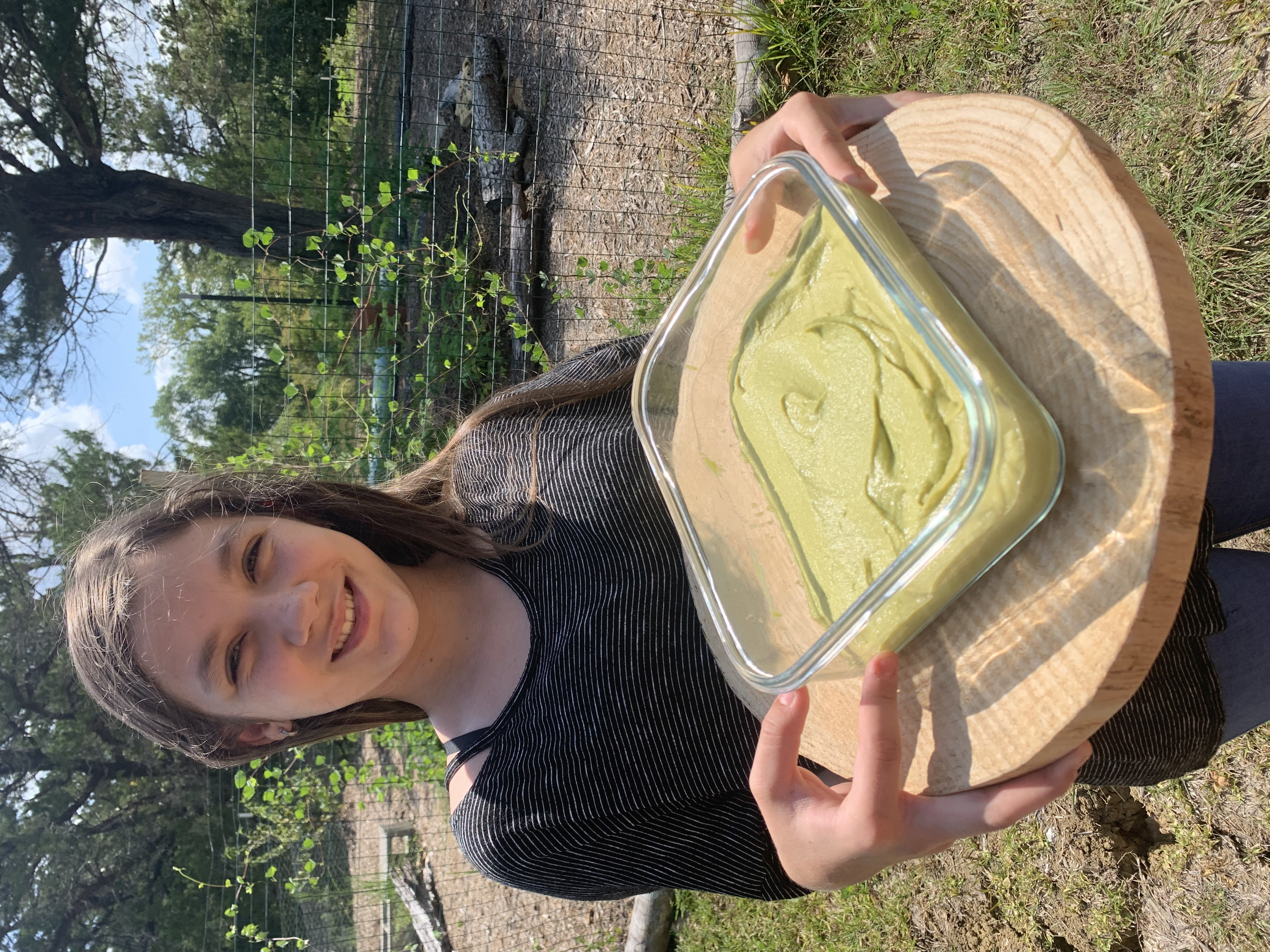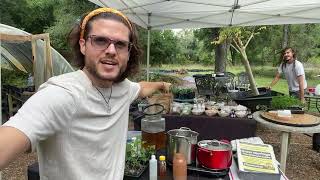 Moringa + Mint Tea

Moringa Tea is a great way to benefit from using moringa leaves.
Start with 1-2 liters of water in a pot.
Bring water to a high heat, it doesn't need to boil but heat the water gently.
Then, remove pot of water from the heat.
Once the hot water is removed from the heat, add your ingredients. You can use a tea ball strainer or add the leaves loose and strain later.
Add 1-2tbsp of dried moringa loose leaf for every Liter of Water.

Add, 1tbsp of dried mint leaves

Add 1-2tbsp of honey
Add anything else you may like, this tea can be a base for other flavors, ex: I like to add 1 tbsp of loose yerba matte as well.
Let the ingredients steep in the pot off the heat for 10 minutes.
If you add lemon, it may cause the tea to spoil faster, but can be a great additive if you are drinking the tea same day.
Then, strain any loose leaf away from the tea, using strainer.
Enjoy the tea warm or put in the fridge to chill.
Watch This Video For More Clarification on How To Make Moringa Tea : https://www.youtube.com/watch?v=1zOPeOjJOG4


Moringa Drumstick Soup
Drumstick Sambar

The Moringa Tree Produces a Seed-Pod Vegetable known as the 'Drumstick'.
The Moringa Tree is also known as the Drumstick Tree around the world.
Chop the young green drumsticks that contain immature white seeds inside to make a drumstick soup. about 2"-3" in length.
Then, Boil the chopped drumsticks in water for 15 minutes.
After that, add you favorite chopped vegetables and add a 2 cups of coconut milk and simmer everything for an additional 30 minutes.
Moringa Drumstick Sambar is a great mineral rich soup millions of people enjoy around the world.